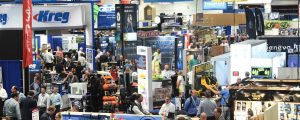 Vinyl Trends focuses on Developing Partnerships at the 2023 NHS and IBS Trade Shows.
The National Hardware Show (NHS) and The International Builder Show (IBS) were held jointly at the Las Vegas Convention Center from January 31 to February 2, 2023. The large turnout of exhibitors who answered the call, with elaborate displays spanning over 600,000 square feet, were rewarded with record breaking attendance.
Historically, NHS and IBS have been held in early spring, but the 2023 edition ran the same week as the Surfaces Trade Show at Mandalay Bay. This made for a very busy week for the Vinyl Trends team, as we covered three major events in three days.
While not directly exhibiting, our sister company, Earth Edge, hosted an extensive display, showcasing their Made in USA kneeler pads and anti-fatigue mats. With their state-of-the-art equipment, the Hickory, NC-based plant custom cuts foam pads to almost any size and shape. The latest investments at Earth Edge include the capability to screen print multicolor logos and a large warehouse to service growing demand.
At Vinyl Trends, we have been focused on leveraging both our knowledge of the US/Canadian markets and our access to all the major retailers, to offer international companies distribution services in North America. One of our great successes, discovered at NHS 2018, is the plastic deck foundation block Tuffblock that Vinyl Trends distributes exclusively in Canada. Tuffblock is available for purchase in multiple stores/banners across the country as well as online. The success of TuffBlock is testimony to our ability to partner with great brands to develop new markets. We are able to offer multiple levels of support to companies, from order fulfillment all the way to exclusive master distribution, depending on needs and requirements.
Our primary objective this year was to find innovative ideas and products. We were looking for fresh concepts and unique executions, but ideally we want to identify exceptional companies to partner with. We believe that, beyond a great product, there are great people, and we pride ourselves in building those relationships first and foremost. This year offered a particularly good harvest of opportunities. We came back to Canada with over 20 strong leads for outstanding companies, from the single owner/operator/inventor to larger corporations, all interested in our expertise, particularly in the Canadian market. 
Over the next few weeks and months, we look forward to reviewing and testing samples, conducting market studies, negotiating distribution agreements, and building new relationships, all with the goal of bringing innovative, sustainable, and well-made products into Canada.