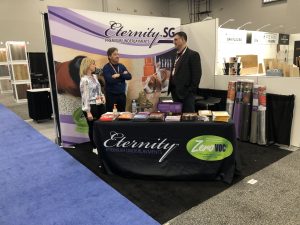 After a relatively quiet 2022 edition, the Surfaces 2023 show bounced back to pre-pandemic attendance levels this year. The largest North American flooring trade show was once again hosted by The International Surface Event at the Mandalay Bay Convention Center in Las Vegas from January 31 to February 2, 2023.
Vinyl Trends attended with a full team of experts and a display to take full advantage of this newfound energy. With the flooring distribution industry as our primary target, we displayed our Eternity Underlayment brand, which is available across the US via multiple regional and national distributors. It was an opportunity to meet with most of our current customers, as together we develop strong programs for the 2023 season. Other goals for this trade show included answering technical questions from builders and tradespeople, presenting our premium underlayment solutions to potential distributors and continuing to build brand recognition for our products.
As usual, we spent time entertaining healthy relationships with our competitors while paying attention to new products and industry trends. A great deal of effort was spent lobbying for our patented SealGuard seaming system as a solution to the industry-wide quest for moisture mitigation. Our foam underlayment paired with SealGuard offers advanced moisture protection which negates the need for the dreaded 6 mil poly layer. While the industry has made the economical decision to move toward direct attached pad, we heard stories of incremental floor failures credited to the lack of vapor barrier from this widely adopted system. We know our underlayment solutions can offer superior value to the homeowner and protect dealers and installers from claims. Another obvious limitation of the attached pad system is the lack of an adequate sound barrier. Vinyl Trends has been challenged by industry leaders to design an underlayment approved for use under attached pad installations, particularly for multifamily residential applications. We are almost ready to announce the commercialization of a product that will fill this need. One more challenge that arose during the week at Surfaces was the need for a high performing underlayment approved for single glue application. We will work diligently to develop that product with all our partners, floor manufacturers and adhesive producers to solve this practical issue for builders and installers.
Every year, we return to our offices full of new energy, ideas, and excitement from our week at Surfaces. This year, the show did not disappoint and our entire team has been canvassing strategies to draw on the uncovered opportunities from this great event.