Creating an optimal room experience starts with selecting the right building materials, and that includes underlayment. Underlayment is a layer of material installed between the subfloor and the flooring to provide moisture, acoustic and durability protection and ideally all three. However, not all underlayments are made the equal. Poor quality underlayments will not provide your flooring project with the protection it really needs. A high-quality underlayment, like Comfortboost and Natural LVT, dampens sound, and protects your flooring from mold, mildew and moisture. It will also support the floor's click system as the floor flexes and moves through the life of the home.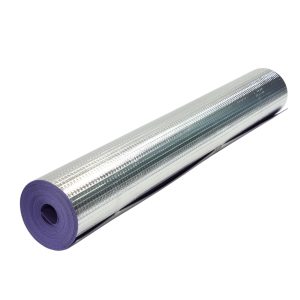 Comfortboost
Comfortboost is a premium underlayment specifically designed to improve a room's overall comfort by combining Vinyl Trends' advanced acoustical foam with reflective technology to provide a comfort that you can actually "feel".
"Feel the Difference" – How does it Work?
Up to 93% of heat/air conditioning lost through your floor is primarily due to the penetration of radiant energy. The fused aluminum film used in Comfortboost underlayment prevents radiant energy from penetrating down, reflecting it back into your home where it is absorbed in the form of heat or air conditioning energy. The conservation of heat or air conditioning helps to lower the cost required to heat and cool the room.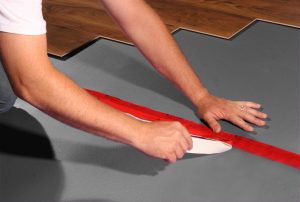 Natural LVT
Natural LVT is the first and only ZERO VOC underlayment on the market. Volatile Organic Compounds (VOC) are a group of toxic chemicals that can enter the air. When the human body is exposed to VOC, it can have harmful effects. Our innovative product does not emit harmful VOC emissions and exceeds all standards for indoor air quality including the California protocol. Natural LVT with Seal Guard was designed specifically for use with LVT/LVP and SPC/WPC flooring but can also be used with laminate, hardwood and engineered flooring. As an advanced acoustical barrier its superior sound ratings makes this product an excellent choice for high rise condominiums to single family homes. Natural LVT provides our customers with peace of mind.
In conclusion, choosing the right underlayment is crucial when it comes to creating an optimal room experience. Comfortboost and Natural LVT are premium acoustic underlayments that provide superior moisture protection and in-room comfort. Comfortboost uses advanced acoustical foam and reflective technology to reduce energy expenses and increase comfort, while Natural LVT protects your in-home environment as a ZERO VOC underlayment. Investing in high-quality underlayment will extend the longevity of your flooring, provide sound dampening, and help protect your health and well-being.

If you're looking to enhance the quality of your next building project, we invite you to use one of our Vinyl Trends products. You can purchase our products on Amazon here.